This past winter, the Academy's all-together awkward #OscarsSoWhite oversight became international news for the second year in a row as America's most vaunted film institution saluted yet another roster of twenty all-white actors. Among the hodgepodge of reactions, a number of deserving performers rose up as glaring and unforgivable omissions: Creed's remarkable Michael B. Jordan and Tessa Thompson, the terrific Straight Outta Compton trio, Beasts of No Nation's SAG-winning Idris Elba, and Tangerine's bright breakout star Mya Taylor, among numerous others.
But in naming these intensely-worthy actors, the Academy's critics quickly began to perform an odd act of exclusion all their own, that of Asian performers. This shouldn't necessarily come as a surprise: if the Academy has been recently found guilty of ignoring actors of color in general, their track record when it comes exclusively to Asians is even spottier. Throughout the Academy's 86-year-history, only a handful of Asians have found their way onto the Academy's select ballot. In that same time span, Asian actors have nabbed prizes a total of four times and the only Asian Best Actress nominee remains Golden Age leading lady Merle Oberon, who famously hid her Indian heritage and managed to "pass" as white for the majority of her 45-year career within the oppressive studio system.
Oberon was, in all honesty, not an actress for the ages, but her life story is an indisputably fascinating one and Hollywood would do well to take a break from all the tortured musical genius tales and give the ethnically-erased Oberon a biopic all her own. My only worry is that someone would probably cast Scarlett Johansson, who is currently under fire for headlining an ivory-tinted Hollywood remake of the Japanese anime classic Ghost in the Shell. Or Emma Stone, whose very casting as a part-Chinese character in Cameron Crowe's tarred-and-feathered Aloha pretty much tanked the film all on its own. Or maybe even the goddess Tilda Swinton, one of our greatest living actresses who has had the unfortunate judgment to align herself with Marvel's dunderheaded decision to cast her as an originally Tibetan guru in their forthcoming Doctor Strange adaptation.
As the superhero conglomerate continues to offer endlessly muddled responses about their creative intentions and the character's newly "Celtic" heredity, one thing has become all too clear this year: Hollywood still doesn't respect Asians.
"Marvel must think we're all idiots," wrote the gloriously outspoken actor George Takei, who took to Facebook this week to criticize the studio and screenwriter Max Landis, who recently claimed that Hollywood simply doesn't have the A-list Japanese talent to not hire a bankable star like Scarlett Johansson. "They cast Tilda because they believe white audiences want to see white faces," Takei continued. "Audiences, too, should be aware of how dumb and out of touch the studios think we are."
Studios are indeed behind the recent spike in cinematic whitewashing, but they are far from the only ones responsible for the rough treatment that Asian artists continue to receive both on and off set. This past March, a group of Asian Academy members, ranging from actors like Takei and Sandra Oh to two-time Best Director winner Ang Lee, signed an open letter to The Academy to lambast the organization for a number of "tasteless and offensive" jokes that made their way onto the Oscars telecast thanks to presenter Sacha Baron Cohen and host Chris Rock, who decided to pepper his lame hosting gig with an altogether idiotic skit that made a cruel punchline out of a trio of onstage, "iPhone-making" Asian children.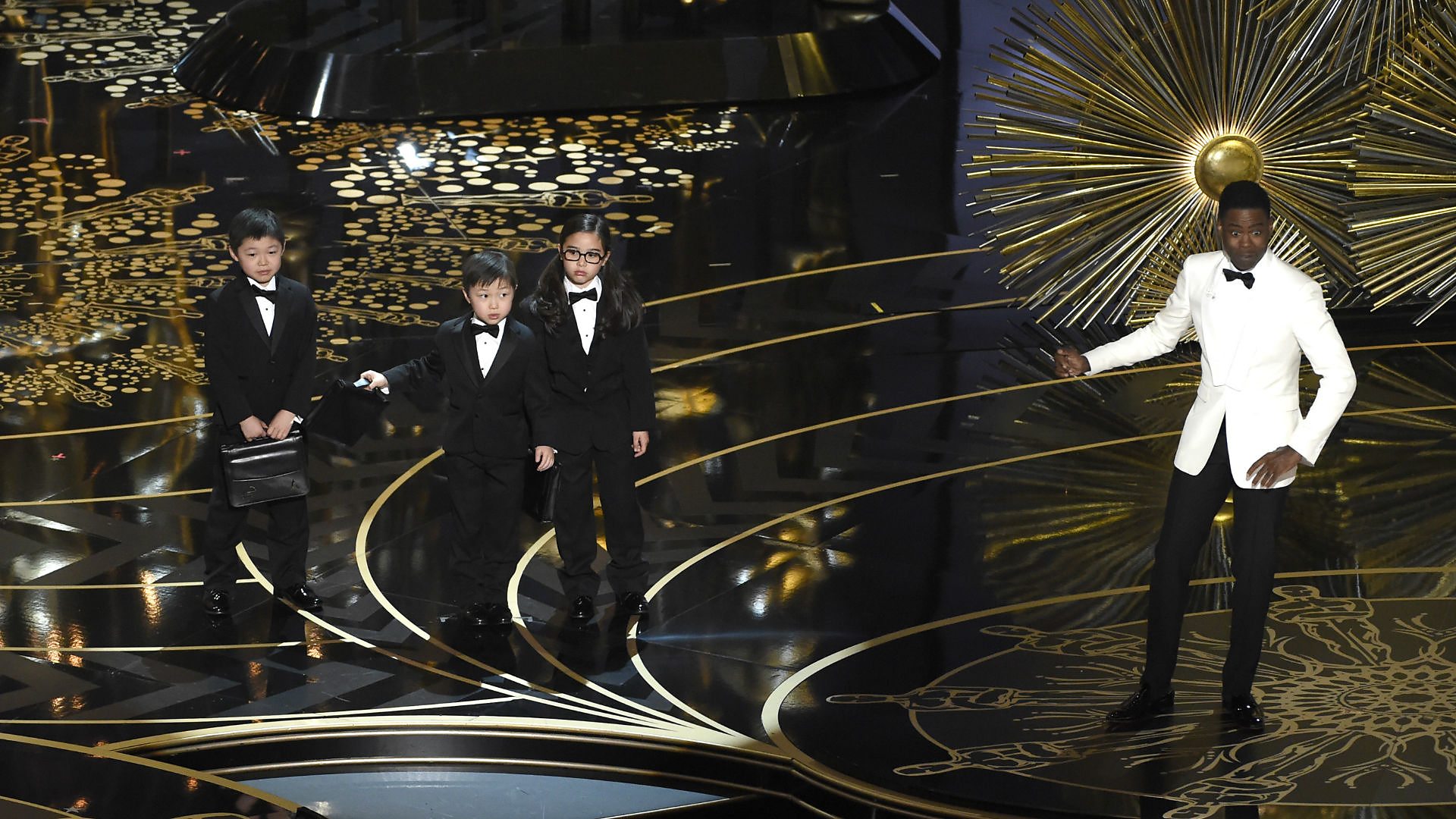 What troubles me even more than the backwards attitudes of entertainers like Cohen and Rock (or even the Hollywood whitewashing that isn't even remotely new) is the blithe response that such behavior elicits. When the Academy ignores an entire community of black actors, the exclusions spurs a social movement, which it by all means should. But when a comedian like Cohen decides to make another desperate grab for relevance by trotting out Ali G and cracking jokes about Minions and "yellow people with tiny dongs," the general reaction is almost always, "Lighten up! It's just a joke!" Literally: actress Olivia Wilde, who co-presented with Cohen, took to Twitter in the weeks following the controversy to say just that. "The whole thing was a hilarious and welcome surprise," she tweeted. "Haters, lighten up."
Wilde's reaction is, for me, most indicative of the unfortunate ways in which Hollywood views Asian people. And such casual indifference goes hand-in-hand with the ways in which Hollywood then creates characters of Asian descent. After all, this is the industry that, up until very recently, viewed Gedde Watanabe's icky Long Duck Dong in Sixteen Candles as a totally appropriate form of comedic caricature and not an all too typical, Westerner-pleasing travesty. And it's also the same industry that can create a work of television as extraordinarily evocative as Cinemax's The Knick, which gets lavish praise from famous fans and critics who lose their breath over Steven Soderbergh's admittedly phenomenal camera movements but have nary a complaint about the show's weird and utterly retrograde penchant for eroticized Orientalism, which usually requires Asian characters who are either opium-smoking sex puppets or lecherous opium den overlords.
But there is, thankfully, a slowly-emerging silver lining to all this insult. In recent days, people have taken to Twitter to tweet their frustration over Marvel's shameful Swinton casting and the wider epidemic of Asian depictions across all forms of media using #WhiteWashedOUT, created by the online fan community @TheNerdsofColor. Since then, the bubbling movement has gained support from god-sent movie maven Ava DuVernay and Korean comedian Margaret Cho, whose failed 1994 Asian-American TV show All-American Girl waged havoc on her promising career (and personal well-being) and remains an unfortunate cautionary tale of both Hollywood's utter incomprehension when it comes to Asian culture and its stubborn refusal to wise up.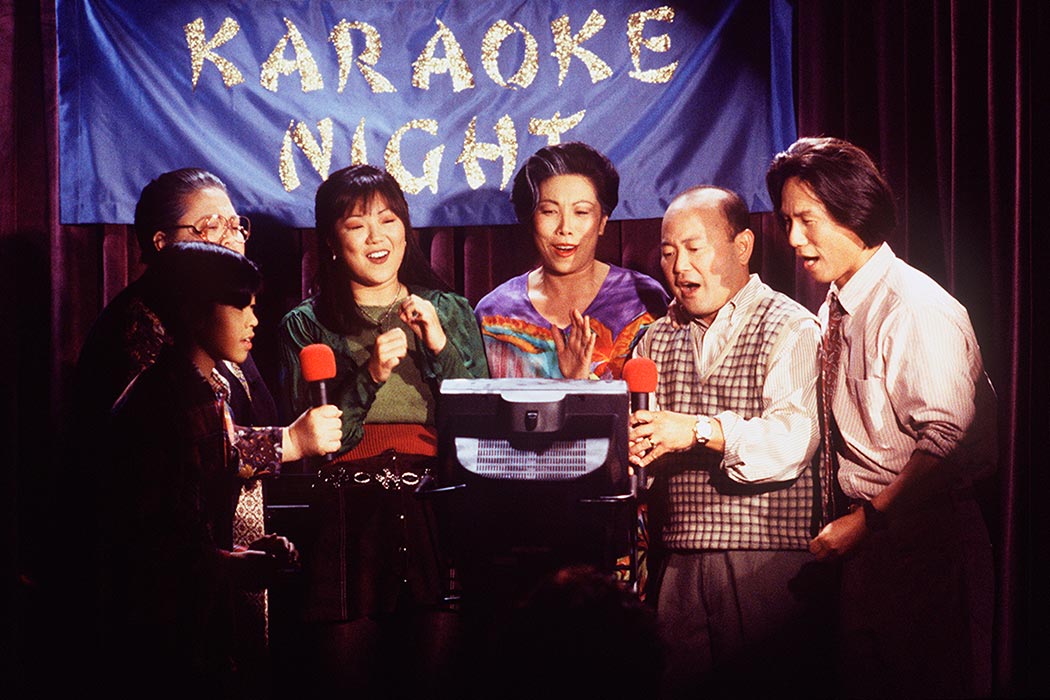 Cho didn't have an immediate platform like Twitter through which to defend herself or her heritage and to say that things have improved in the years since, what with Fresh Off the Boat's fully-realized Taiwanese-American clan currently holding down the family comedy fort on ABC (the same network that notoriously sabotaged Cho's star debut), is a sizable understatement. Even so, Fresh Off the Boat remains the lone all-Asian neighbor in the oddly-proportioned broadcast (and cable) TV neighborhood, a fact that isn't lost on its brilliant leading lady, Constance Wu. "I was talking to a friend the other day about HBO's Togetherness," Wu recently told GQ. "I was like, 'It's a show about white people.' And he said 'Oh, come on, they're just people.' But if somebody says my show is about Asian American people, nobody bats an eye… [White] people are allowed to exist as just people."
There is still a great deal that needs to be done and refusing to even admit that there's a problem or dictating (a la Landis) that one must accept such treatment because it's "the norm" will only continue to dissuade filmgoers and filmmakers alike from demanding further progress. There is no reason why Aloha's Crowe, Doctor Strange's Scott Derrickson, Ghost in the Shell's Rupert Sanders, or any of the other creators behind these washed-out enterprises couldn't have utilized Asian actors. Maybe there isn't a crossover Japanese actress of Johansson's stature currently working within Hollywood's gates, but that's no excuse to not find and create one. Believe it or not, such actors exist and they possess amazing talent and intriguing star power that may never be realized without the vital opportunities that have been withheld for far too long by the inhabitants of an industry who insist on making a near-entire race of people into background extras, fawning sidekicks, and the butts of easy jokes.
It's not that Hollywood's shot-callers aren't looking hard enough. It's that they're hardly looking at all.
---