Audrie and Daisy, Dir. Bonni Cohen and Jon Shenk (U.S. Documentary Competition)
Bonni Cohen and Jon Shenk, recipients of a Gucci Tribeca Documentary Fund grant, return with this necessary inquiry into the intertwined epidemics of sexual assault and online bullying. Audrie and Daisy investigates these heated subjects through the personal experiences of the two real-life high school girls who share its title, each a victim of both sexual violence at the hands of a male friend and subsequent emotional abuse at the hands of social media users.
Belgica, Dir. Felix van Groeningen (World Cinema Dramatic Competition)

This nightlife drama marks the fifth film from rising Belgian director Felix van Groeningen, who directed the emotional musical romance The Broken Circle Breakdown, which picked up Best Actress and Screenplay prizes at Tribeca in 2012 before nabbing an Oscar nomination for Best Foreign Language Film the same year. His follow-up Belgica follows two Belgian brothers (Stef Aerts and Tom Vermeir) who open a bar and get caught up in Ghent's vibrant party scene.
Certain Women, Dir. Kelly Reichardt (Premieres)
Is there a more appealing premise for a new indie than Laura Dern (still the most preternaturally expressive actress contemporary cinema ever spawned), Kristen Stewart (continuing that post-Twilight hot streak), and Michelle Williams (still due for that Oscar any day now) as three women whose lives intersect in small-town America? Add to the mix indie writer-directress Kelly Reichardt (whose previous effort Night Moves made its U.S. premiere at Tribeca in 2013) and there's not a hotter ticket to be found in Park City. Independent women, unite!
Dirt, Dir. Darius Clark Monroe (U.S. Narrative Short Films)

Following the acclaimed 2014 release of his TFI-funded and Spike Lee-produced autobiographical documentary feature debut Evolution of a Criminal, Darius Clark Monroe will compete in the U.S. Narrative Short Films section with Dirt, a cryptic mystery-thriller whose plot we know little about but which already has a deliciously succinct tagline (i.e. "Some things must die to live.") to keep us hungry for more.
Equity, Dir. Meera Menon (U.S. Dramatic Competition)

Breaking Bad's terrific Anna Gunn stars as a senior investment banker unraveling amidst financial scandal in the latest effort from Meera Menon, whose raucous debut road trip comedy Farah Goes Bang picked up Tribeca's inaugural Nora Ephron Prize for woman writer-directors back in 2013. Her dramatic follow-up (penned by Amy Fox) is oh-so-enticingly being billed as "the first female-driven Wall Street film." So take that, The Big Short.
The Fits, Dir. Anna Rose Holmer (NEXT)

Anna Rose Holmer, producer of the 2014 Tribeca documentary Ballet 422, makes her writer-directorial debut with this psychologically intense and intriguingly milieu-specific portrait of an 11-year-old Cincinnati tomboy (newcomer Royalty Hightower, in a buzzy debut) whose exclusive new dance team begins to suffer strange fainting spells upon her admittance.
How to Let Go of the World and Love All the Things Climate Can't Change, Dir. Josh Fox (U.S. Documentary Competition)

Josh Fox follows up his 2013 Tribeca selection Gasland Part II with this deeply humane, lengthily-titled guerrilla investigation of climate change that finds the Oscar-nominated documentarian traveling to twelve countries on six continents to locate the things that this ongoing global calamity can't destroy.
Kate Plays Christine, Dir. Robert Greene (U.S. Documentary Competition)
Actress director Robert Greene returns with another experimental actressy enticement centered around one of the most truly unsettling stories ever to transpire in American media history. In the TFI-supported Kate Plays Christine, Greene follows indie actress Kate Lyn Sheil (Listen Up Philip, Netflix's House of Cards) as she prepares to "play" the infamous Christine Chubbuck, a troubled Florida news reporter who committed suicide on air in 1974. (Eerily enough, this isn't the only treatment of Chubbuck's fateful broadcast that's coming to Sundance this year: Rebecca Hall plays the Sarasota television host in Antonio Campos' narrative feature Christine.)

Life, Animated, Dir. Roger Ross Williams (U.S. Documentary Competition)

Academy Award-winning documentarian and 2012 Gucci Tribeca Documentary Fund alumnus Roger Ross Williams (God Loves Uganda, Music for Prudence) returns with Life, Animated, a moving coming-of-age portrait of Owen Suskind, an autistic, emotionally-isolated young boy who was unable to speak for years before finding cinematic comfort and then guidance through Disney's animated movies.
Little Men, Dir. Ira Sachs (Premieres)

After acclaimed Tribeca titles like 2012's Keep the Lights On and 2013's Love is Strange, filmmaker Ira Sachs resumes his eclectic run of incomparably intimate and beautifully-specific studies of modern urban life. In Little Men, a pair of Brooklyn teens (newcomers Michael Barbieri and Theo Taplitz) assume a vow of silence when their newfound bond becomes tested by their parents' fighting over rising rent. Even better? Gloria's amazing Paulina García makes her American movie debut as a Chilean single mother, with the perpetually underrated Jennifer Ehle and Greg Kinnear rounding out the opposition.
The Lovers and the Despot, Dirs. Robert Cannan and Ross Adam (World Cinema Documentary Competition)

2012 TFI Documentary Fund grantees Robert Cannan and Ross Adam bring to the screen a thrilling, stranger-than-any-fiction documentary about the literally crazy extent of Kim Jong-il's cinephilia. In The Lovers and the Despot, the notorious North Korean dictator kidnaps a South Korean filmmaker and his glamorous actress ex-wife, forcing them to make films for him and unwittingly rekindling the celebrity couple's dormant romance amid the sort of major crisis that could — seemingly — only exist in the movies.
Lovesong, Dir. So-yong Kim (U.S. Dramatic Competition)

Riley Keough plays a young, unhappy wife-mother whose close bond with best friend Jena Malone intensifies during an impromptu road trip in this intimate drama from Tribeca alumnus So-yong Kim, who co-wrote Lovesong with frequent collaborator Bradley Rust Gray. Together, the two have scripted and directed two Tribeca dramas, including 2012's queer romance Jack and Diane and the 2009 character study The Exploding Girl, which nabbed a Best Actress prize for leading lady Zoe Kazan.
Michael Jackson's Journey from Motown to Off the Wall, Dir. Spike Lee (Documentary Premieres)

In 1979, Michael Jackson released his immaculate fifth solo album Off the Wall, whose sweeping success catapulted the adored child star into full-fledged adulthood and the pop stratosphere. This seminal moment in the King of Pop's early career gets the full-length documentary treatment from none other than Spike Lee, who stopped by last year's Tribeca Film Festival to screen his short football doc The Greatest Catch Ever.
Mr. Pig, Dir. Diego Luna (Premieres)

Mexican acting staple Diego Luna, who screened his boxing documentary J.C. Chávez at Tribeca in 2007, has co-written and directed his third narrative feature, a father-daughter road trip drama about an aging pig farmer (Danny Glover) who travels to Mexico with his alienated adult daughter (Maya Rudolph!) to sell his last prize hog. A curious premise, for sure, but whatever the outcome, let's just relish the opportunity to see Glover and — especially — the unjustly underused Rudolph working in lead roles, hopefully playing characters worthy of both their time and talents.
The New Yorker Presents (Special Events)

From executive producers Alex Gibney (a Tribeca Film Festival documentary mainstay) and Kahane Cooperman, The New Yorker Presents transfers America's most award-winning magazine to the small screen with an innovative new series comprised of documentaries, short narrative films, comedy, poetry, animation, and cartoons, all created by renowned filmmakers and rangy artists like Marina Abramovic, Alan Cumming, Jonathan Demme, and more. Two episodes will screen at Sundance this month, but you can already watch the series' premiere on Amazon.
Norman Lear: Just Another Version of You, Dirs. Heidi Ewing and Rachel Grady (Documentary Premieres)

Norman Lear, television's most radical risk-taker and the creator of such seminal seventies classics as All in the Family, The Jeffersons, and Mary Hartman, Mary Hartman, is the focus of this documentary portrait from directing duo Heidi Ewing and Rachel Grady, whose Oscar-nominated Jesus Camp won a Special Jury Prize when it premiered at Tribeca in 2006. In their latest, Ewing and Grady unpack the legend behind Lear's landmark success, built of both nervy, groundbreaking comedy and a perceptible passion for honest social change.
NUTS! , Dir. Penny Lane (U.S. Documentary Competition)
Our Nixon director and 2014 TFI Documentary Fund grantee Penny Lane returns with the Kickstarter-funded NUTS!, which draws on delightful animated reenactments, select interviews, archival footage, and some seriously unreliable narration to chronicle the bizarro, mostly-true story of Dr. John Romulus Brinkley, the outré genus who used a million-watt radio station and a goat-testicle impotence cure (!) to build his own eccentric empire in 1920s America.
Peace in the Valley, Dirs. Michael Palmieri and Donal Mosher (Documentary Short Films)

October Country's documentary filmmaking duo Michael Palmieri and Donal Mosher, whose pharmaceutical drug exposé Off Label premiered at Tribeca in 2012, come to Sundance this year with Peace in the Valley, a short and timely nonfictional account of a landmark 2015 vote on LGBT rights in Eureka Springs, Arkansas, home to the U.S.'s largest outdoor Passion Play and plenty of vocal antigay opposition.
Plaza de la Soledad, Dir. Maya Goded (World Cinema Documentary Competition)

Mexican photographer and 2013 TFI Latin America Fund grantee Maya Goded makes her directorial debut with a passion project that has been over twenty years in the making. Plaza de la Soledad offers a warm, candid, and welcomely non-exploitative look into the lives of Mexico City prostitutes and the intimate community they form as many of them search for love, security, and a better life.
Sing Street, Dir. John Carney (Premieres)

Following his joyous, underrated New York musical Begin Again (which screened at Tribeca in 2014), Once director John Carney returns to his beloved Dublin for another homegrown, song-driven dramedy. In the eighties-set Sing Street, a teen outcast (Ferdia Walsh-Peelo) starts a ragtag rock band to escape his bad home life and win the interest of a beautiful crush, with crowd-pleasing, guilt-free feel-goodery sure to ensue — that is, if audiences gain the brains to actually see these totally exuberant entertainments that Carney keeps churning out!
Swimming in Your Skin Again, Dir. Terrence Nance (New Frontier Short Films)

Brooklyn-based TFI alumnus Terrence Nance (An Oversimplification of Her Beauty) is one of American indie cinema's most promising up-and-coming voices who also remains intensely committed to exploring new experimental forms of filmmaking that intersect with vivid commentaries on race, gender, and sexuality. This month, Nance will premiere his latest short film, Swimming in Your Skin Again, an evocative, uncanny short musical about the spiritual swings of life among a Miami community.
Trapped, Dir. Dawn Porter (U.S. Documentary Competition)

2011 Tribeca All Access alumnus Dawn Porter (Gideon's Army) arrives in Sundance with a hot-button documentary that couldn't possibly have come at a more critical moment in American politics. In Trapped, Porter explores America's abortion clinics, many of which are struggling to ensure their patients' survival — and their own — amid a devastating and very public increase in pro-life violence and continued efforts from lawmakers to outlaw abortion itself.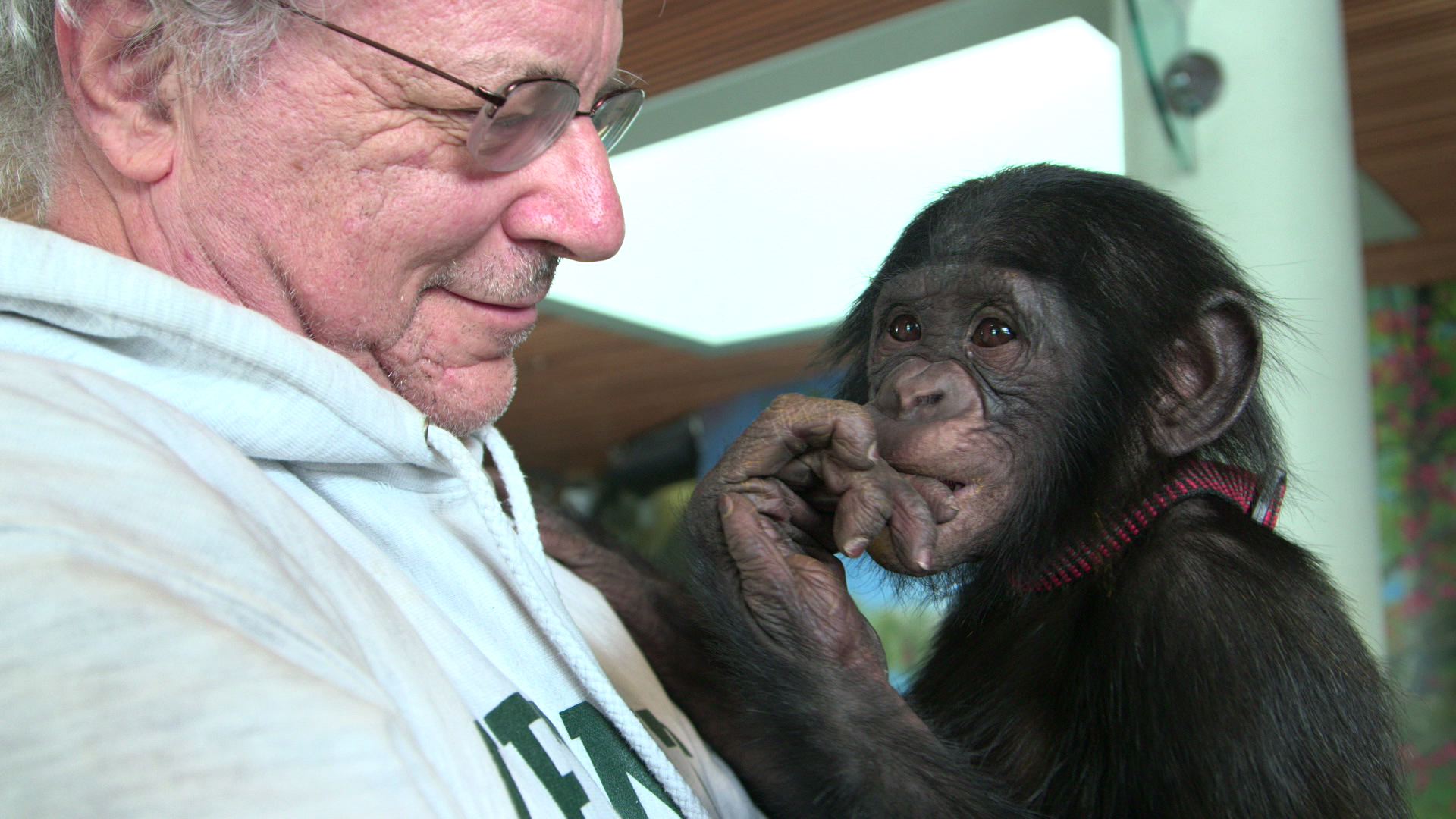 Unlocking the Cage, Dirs. Chris Hegedus and D.A. Pennebaker (Documentary Premieres)

In their upcoming Unlocking the Cage, Gucci Tribeca Documentary Fund grantees/husband-and-wife documentary legends Chris Hegedus and D.A. Pennebaker follow pioneering animal rights lawyer Steven Wise as he wages a radical and uniquely challenging battle to demolish the legal barriers that separate animals from human beings by filing a groundbreaking lawsuit that would effectively transform a chimpanzee from a living "thing" into a legally-protected person.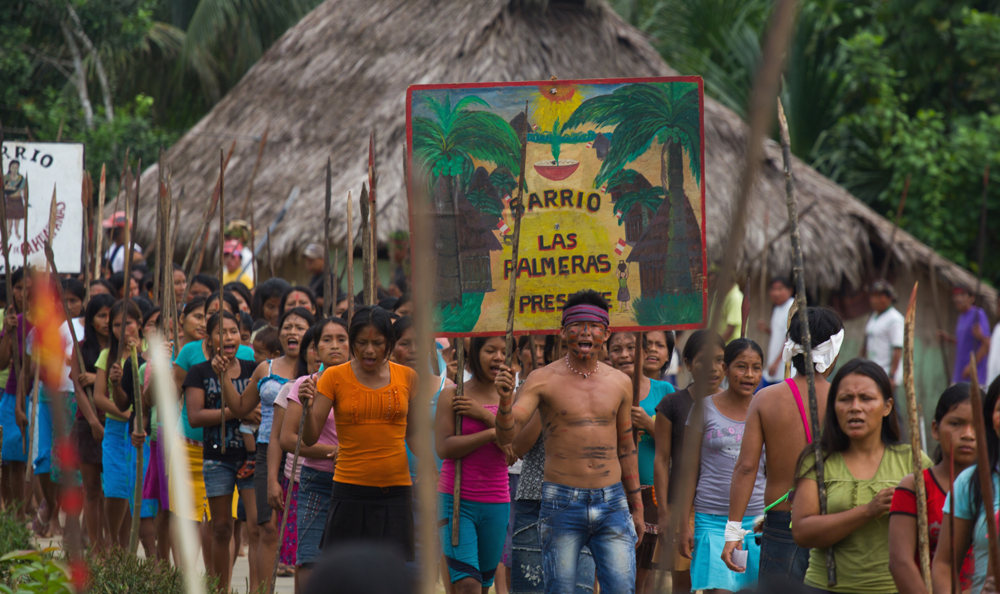 When Two Worlds Collide, Dirs. Heidi Brandenburg and Matthew Orzel (World Cinema Documentary Competition)

2011 TFI Latin America Fund grantees Heidi Brandenburg and Matthew Orzel make their directorial debuts with this never-more-timely documentary about earthly conservation. When Two Worlds Collide details the plight of Alberto Pizango, an indigenous leader and activist who is forced into exile and faced with twenty years of imprisonment for contentiously resisting the big businesses that are laying environmental ruin to the Amazonian lands he calls home.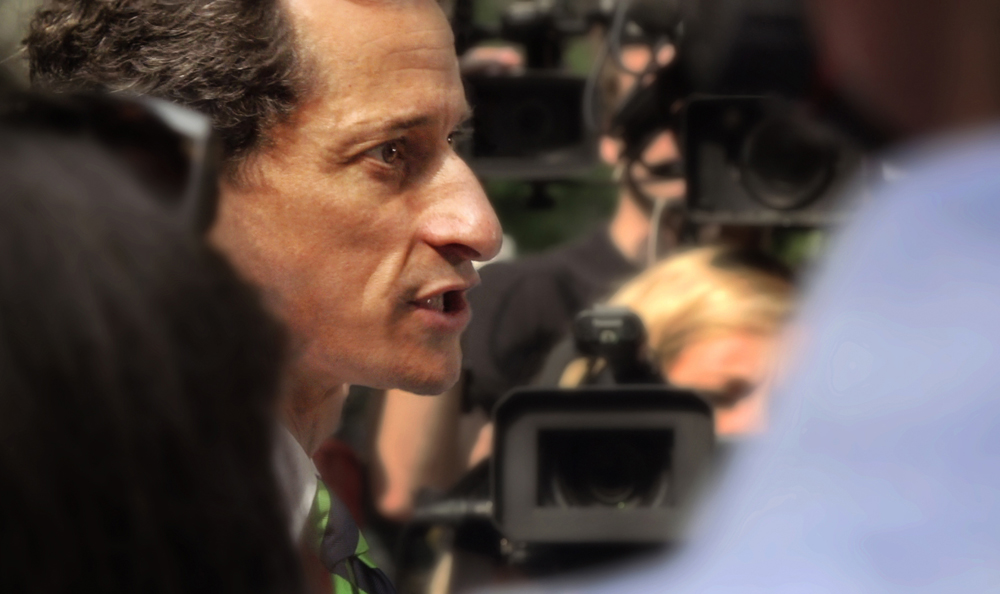 Weiner, Dirs. Josh Kriegman and Elyse Steinberg (U.S. Documentary Competition)

Yes, Weiner follows that Weiner: Anthony Weiner, New York City's political wonder boy who resigned from Congress in disgrace after being caught in a notorious 2011 sexting scandal that momentarily made him the very face of American political buffoonery. This full-access profile from debut directors Josh Kriegman and Elyse Steinberg, who received a grant from TFI Documentary Fund for the project, follows Weiner on his failed 2013 mayoral campaign while providing broader commentary on our country's dubious political machine, of which Weiner is but a tiny — if widely-lampooned — cog.
---