Lily Tomlin is having a moment.
This is an admittedly weird statement to make about a performer who already stands supreme among the Patron Saints of Character Actresses, who's conquered Broadway, nabbed five Emmys, and exquisitely watched her way right into film history in the most iconic scene of Robert Altman's Nashville. But against all odds, not to mention Hollywood's well-known attitudes towards women once they've hit forty, Lily Tomlin is, indeed, having a moment.
Tomlin is a bonafide national treasure that we've too often taken for granted: a tenacious, trailblazing gay and feminist performer who has shaped an extensive, successful career across stage and screen. At 75 and with a recent Kennedy Center Honor under her belt, Tomlin remains an ever-resourceful, ever-dependable entertainer with a penchant for the offbeat and a superhuman ability to vitalize even the most dire of projects. She has used her incomparable comic chops and committed thesping gifts — not to mention one luminously long and remarkably rubber face — to fill and enliven roles for which she would initially seem either atypical or just plain miscast. (Note the awesome impossibility of ever defining a "Lily Tomlin role.") Tomlin has busted through any easy typecasting and built an enviable body of bright, brave, and brilliant performances over the course of a fifty-year career that only now appears to be getting its full due.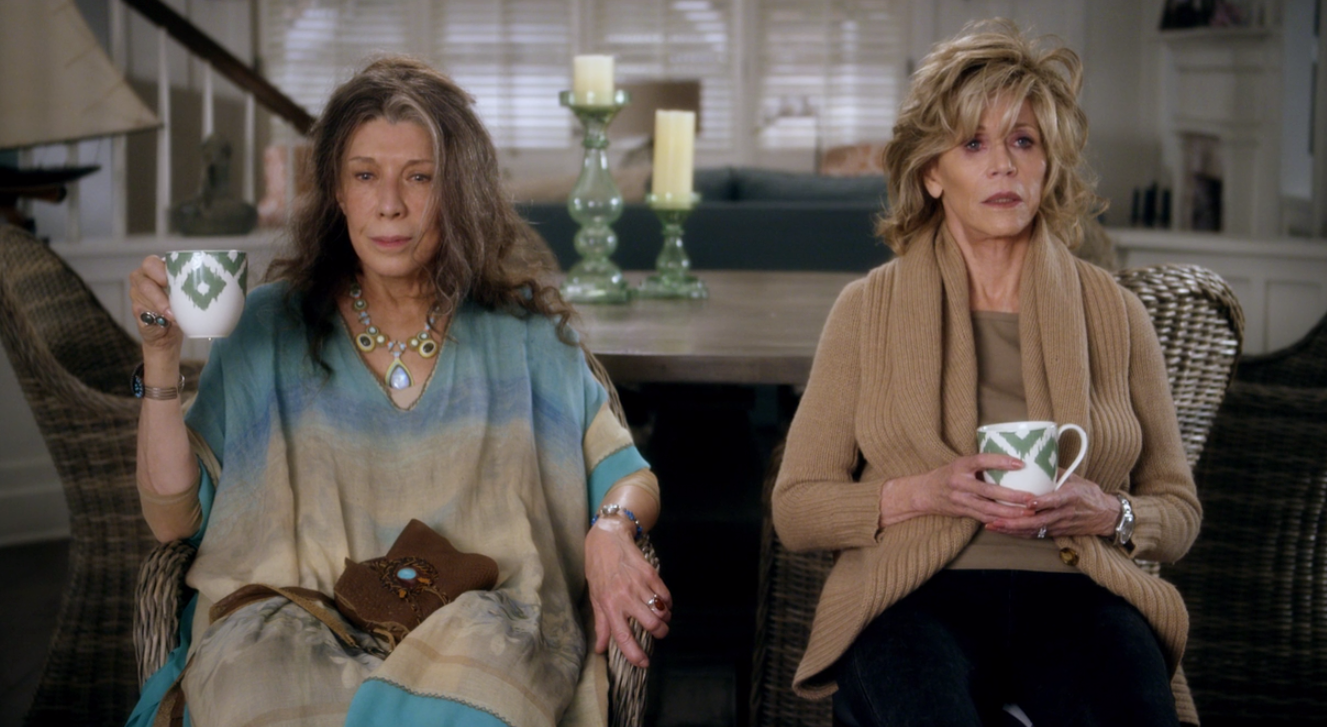 Tomlin has always been more than comfortable crisscrossing around whatever medium she sees fit, so it only makes sense that she would embrace Netflix as the next frontier. Grace and Frankie, Netflix's new half-hour comedy series that premiered back in May, finds Tomlin and her 9 to 5 partner-in-crime/real-life friend Jane Fonda reuniting as bitter rivals forced to rely on one another when their longtime husbands come out as lovers. The series, created by sitcom veterans Marta Kaufman and Howard J. Morris and executive produced by Tribeca Enterprises EVP Paula Weinstein, is an entertaining blend of both farcical comedy and earnest, late-age drama, enlivened by the prickly chemistry between Tomlin and Fonda, and has introduced both stars to a new generation of eager audiences and famous fans.
As Frankie, a greying, hippy-dippy earth mama who's less Zen than she imagines, Tomlin is, of course, a hoot, trading razor-edged jabs with Fonda's tightly-wound sophisticate and tripping out on peyote tea in the pilot alone. But she knocks her performance out of the park in deeper, more dynamic ways as well. She's equally adept at the show's zany brand of broad comedy as she is in scenes of quieter, character-based drama with Sam Waterston as her ex-husband Sol. She can just as easily reign it in and keep Frankie close to the vest as she can explode her hysterically into being.
It's an unmitigated joy to see Tomlin hold court as star in her very own series but I'd also love to see more Lily on our big screens, where she has spent too many years playing other people's wisecracking older mothers in movies where her presence has been annoyingly undervalued and under-tested. Thankfully, that trend has been put on hold this summer with the forthcoming release of Tomlin's newest indie dramedy Grandma, a 2015 Tribeca Film Festival Spotlight selection and the first film in recent memory in which Tomlin plays second fiddle to no one. Written and directed by Paul Weitz, Grandma is an charming, humble, and honorably-intentioned character study that lives or dies on Tomlin's performance. The film leans on Tomlin's legacy just a little, casting her as an acerbic, influential lesbian poet of certain age and sharp tongue who springs into action when her young granddaughter (Julia Garner) arrives on her doorstep, seeking funds for an abortion.
Grandma is the rare project, indie or otherwise, to revolve almost exclusively around the lives and conflicts of everyday women, and is thus filled with a sparkling cast of requisite supporting actresses like Marcia Gay Harden, Judy Greer, Laverne Cox, and the late Elizabeth Peña. But it's still Tomlin's show through and through, and she delivers a perfectly-judged performance of scabrous intelligence and quietly-contained empathy. Tomlin sees far inside her central misanthrope, in ways that Weitz's modest direction and spare script can only imagine. It's the inventiveness, acuity, and insight of Tomlin and Tomlin alone that allows the performance to further function as an overdue, big-hearted tribute to the well-honed wit and estimable, character-inhabiting talents of the performer herself.

After all, this is the woman who in her film debut managed to score an Oscar nomination by so poignantly muting her entire performance off of the erotic pleading of Keith Carradine's "I'm Easy" in Altman's 1975 opus Nashville. Tomlin's Linnea — wife of a distanced political power player, mother to two deaf children, and lead singer of an all-black gospel group — is one in a dazzling, seemingly endless array of Nashville's frenzied figures and fascinating performances. Tomlin is especially engrossing in a role that, on the page, might be all too easy to overlook or underestimate in favor of a louder, more self-pronouncing character. The actress' four-season stay on the famed sixties sketch series Laugh-In ensured her recognizability, however, and so her decision to underplay makes sense, but it also makes the character something so much more absorbing than just a sad, yearning housewife seeking fulfillment from some smug folk singer.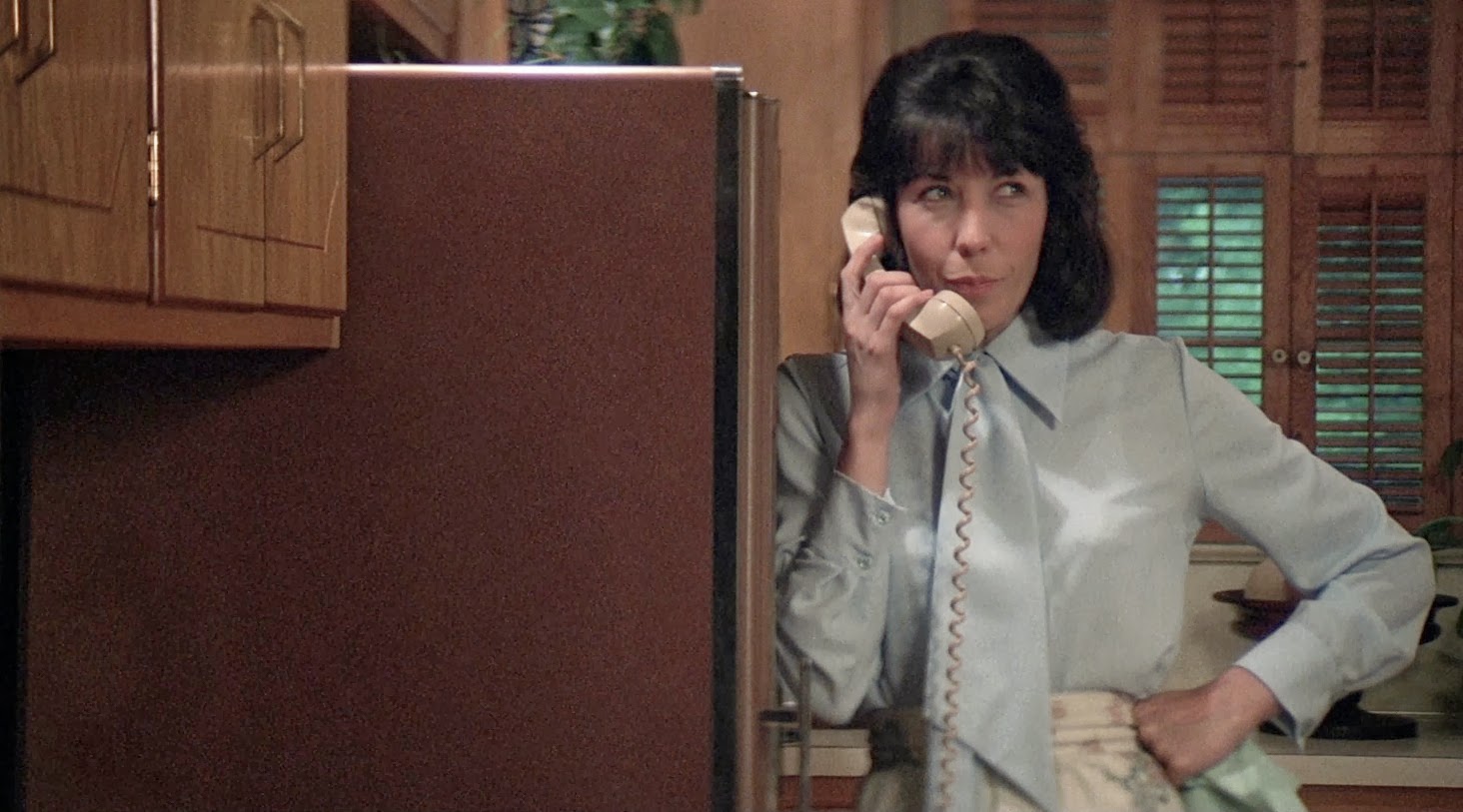 By relaxing herself and, in particular, calming that perfect comedian's face, Tomlin instead envisions a woman much more plausible and quietly profound. It's the kind of performance you feel would somehow still be happening, whether or not anyone was watching. But for those who have watched, it remains a turn that so simply, subtly, and stunningly allows us the chance to experience Linnea's journey as it happens, within her home, in the studio, and from across a crowded, hushed-out barroom. Tomlin engrosses us in her abrupt discoveries, her swelling curiosities, her cautious choices, and her own final self-solidification of what she wants, who she is, and who she won't be. It's a master class of quietly-revelatory characterization, of speaking volumes by doing next to nothing.
For the recent, uninitiated Tomlin fan who has already binged-out on Grace and Frankie and is growing increasingly eager for Grandma's August release, Nashville is an essential watch. It's pure, rapturous cinematic perfection, emboldened by another of Tomlin's typically rich and rewarding characterizations. For those who have seen Nashville and bizarrely don't feel like watching it on loop, there are still plenty of ways to acquaint yourselves with one of our boldest and most beloved comediennes. Tomlin's filmography is a veritable treasure trove of top-notch character work, sprawled across various decades, mediums, and genres.
Of course, no Tomlin viewing experience is complete without the 1991 filmed adaptation of her Tony-winning, one-woman, multi-character performance piece, The Search for Signs of Intelligent Life in the Universe, co-written by Tomlin and her longtime partner Jane Wagner. Tomlin also conducts a cautious, curious duet with crusty character actor Art Carney in Robert Benton's 1977 neo-noir The Late Show, in which Tomlin's dizzy New Age space cadet partners up with Carney's over-the-hill PI to find the former's missing cat. That same movie contains a mid-film scene to rival even her big moment in Nashville for gorgeously unadulterated acting excellence. It's a simple but sensational dialogue, in which Tomlin anxiously attempts to explain her newfound feelings of friendship and maybe even affection for Carney's embarrassed old school detective, and in the process begins to giddily, beautifully envision an entire life for the two of them. She's both the movie's leading lady and its beating heart, bringing this kooky, lonely, and impossible cat lady beautifully into focus.
Elsewhere, Tomlin is a daffy if atypically backgrounded delight as one-half of a country music sister act in Altman's valedictory feat A Prairie Home Companion. And although she notoriously battled David O. Russell on the set of 2004's I ❤ Huckabees, both she and the film are gems of hilariously out-there comedic sensibilities. Tomlin is as captivating amid Hucakbees' screwball existentialism as she is doing a captivating slow burn in an unusual role as a dishonored, tight-lipped Ruth Madoff-type in the third season of FX's Damages, one of several intriguing if infrequent forays into straight drama. Grace and Frankie fans in particular should be sure to check out the lighthearted office sexism satire 9 to 5, in which Tomlin is a sparkling, sharp-witted fireball as an aggravated, ungratified working woman who conspires with two equally fed-up colleagues (Fonda and Dolly Parton) to exact revenge on their "sexist, egotistical, lying, hypocritical bigot" of a boss. And, of course, no self-respecting child of the nineties can think about the animated children's series The Magic School Bus without recalling Ms. Frizzle, the far-out science teacher brought to indelible life through Tomlin's fluty-throaty voice.
There are, admittedly, several head-scratching gaps within my Tomlin viewing history: Altman's Short Cuts. Russell's Flirting with Disaster. The Steve Martin body swap slapstick All of Me. The sci-fi/comedy mash-up The Incredible Shrinking Woman. That much-lambasted May-December romance Moment by Moment starring Tomlin and, uh, John Travolta. Not to mention Edith Ann, Ernestine, and a whole host of small-screen guest spots and recurring arcs.
But that's what's so wonderful about Tomlin's steady, sterling output. Just when you think you've seen all of her greatest hits, there's a bewitching B-side like The Late Show to surprise you with the mere potency of this actress' personal and pioneering style. It's next to impossible to imagine the likes of Kristen Wiig, Kate McKinnon, Lisa Kudrow, and Jane Lynch existing in our current comedy universe without Tomlin's game and guiding influence. We will always need Lily Tomlin on our screens, but it's important to remember that we won't have her forever. I hope that Grandma and Grace and Frankie are enough to vitalize a Tomlin resurgence among audiences both familiar and uninformed. In an ideal world, both projects would inspire more writers, directors, producers, and casting agents to utilize Tomlin in more crucial, creative, and challenging ways, since she doesn't seem particularly interested in slowing down. Her peerless comic touch shows no signs of wear and tear. That gummy grin remains a magical force in any medium. There is still so much she has to show us. There is still so much we have to see.
---