FOR IMMEDIATE RELEASE
September 18, 2023

TRIBECA FESTIVAL ANNOUNCES 2024 DATES, CALLS FOR SUBMISSIONS, AND PROGRAMMING TEAM PROMOTIONS
THE 23RD EDITION, PRESENTED BY OKX, TAKES PLACE JUNE 5-16 IN NEW YORK CITY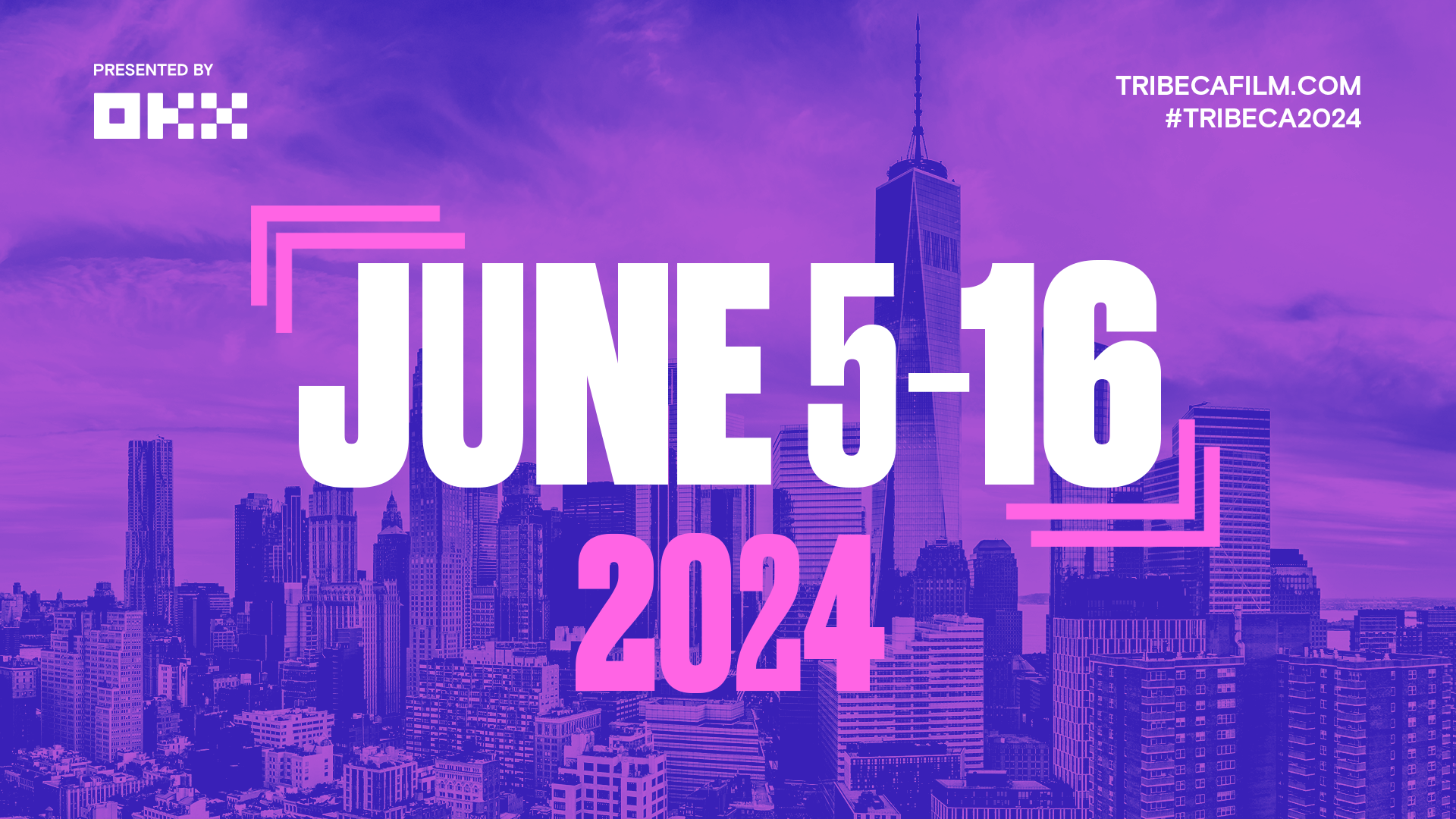 NEW YORK – (September 18, 2023) – The Tribeca Festival, presented by OKX, today announced that the 23rd edition of the festival will take place from June 5-16, 2024 in New York City. For more than two decades the Festival has been a destination for new, groundbreaking storytelling from established and emerging artists. Next June, Tribeca will continue to explore creative innovation across film, TV, immersive, games, audio storytelling, talks, and more.
"Tribeca is a global platform for storytellers to showcase art that speaks with purpose. As the industry has changed, we have evolved to be inclusive of all forms of storytelling," said Tribeca CEO and Co-Founder Jane Rosenthal. "We're proud to be the launchpad for the next generation of artists. The 23rd Tribeca Festival will be a groundbreaking cultural event that shifts how audiences receive and react to entertainment."
Submissions for the 2024 Festival are now open. Features and NOW close on October 23, 2023 (early), November 27, 2023 (official), and January 17, 2024 (extended). Shorts close on November 1, 2023 (early), December 15, 2023 (official), and February 2, 2024 (extended). Games and immersive close on November 27, 2023 (early), January 10, 2024 (official), and February 13, 2024 (extended). Audio storytelling closes on November 27, 2023 (early), January 10, 2024 (official), and February 21, 2024 (extended). Tribeca X closes on March 13, 2024 (official). Additional information about deadlines, submission rules, regulations, and eligibility is available at tribecafilm.com/festival/submissions
Tribeca also announced the promotions of Festival Director Cara Cusumano to SVP of Programming and José F. Rodriguez to Senior Programmer. The Festival is curated by Cusumano; Artistic Director Frédéric Boyer; VP of Shorts Programming Ben Thompson; Senior Programmers Liza Domnitz, Faridah Gbadamosi, Jarod Neece, and Rodriguez; Programmers Casey Baron, Jason Gutierrez, Jonathan Penner, and Madison Egan; VP of Games and Immersive Casey Baltes; Curator of Audio Storytelling Davy Gardner; Music Programmer Vincent Cassous; EVP of Artist Relations Nancy Lefkowitz and VP of Artist Relations Meredith Mohr; along with a team of associate programmers.
The 22nd Tribeca Festival, which took place June 7-18, 2023 featured 550+ events across New York City and was attended by more than 130,000 participants. Highlights from the Festival included world premieres of Bucky F*cking Dent, Cypher, A Strange Path; exclusive Tribeca Talks with Paul McCartney, David Fincher, and Chance the Rapper; live tapings of Pod Save America and Modern Love; musical performances by French Montana and Cyndi Lauper, and more.
For the latest updates on the Tribeca Festival, follow @Tribeca on Twitter, Instagram, Facebook, TikTok, YouTube, and LinkedIn or visit tribecafilm.com/festival and sign up for the Tribeca newsletter.
About the Tribeca Festival
The Tribeca Festival, presented by OKX, brings artists and diverse audiences together to celebrate storytelling in all its forms, including film, TV, music, audio storytelling, games, and XR. With strong roots in independent film, Tribeca is synonymous with creative expression and entertainment. Tribeca champions emerging and established voices, discovers award-winning talent, curates innovative experiences, and introduces new ideas through exclusive premieres, exhibitions, conversations, and live performances.
The Festival was founded by Robert De Niro, Jane Rosenthal, and Craig Hatkoff in 2001 to spur the economic and cultural revitalization of lower Manhattan following the attacks on the World Trade Center. The annual Tribeca Festival will celebrate its 23rd year from June 5–16, 2024 in New York City.
In 2019, James Murdoch's Lupa Systems bought a majority stake in Tribeca Enterprises, bringing together Rosenthal, De Niro, and Murdoch to grow the enterprise.
Press Contacts
Corey Wilson | cwilson@tribecafilm.com
Yunjung Seo | yseo@tribecafilm.com