Good news: Your weekend moviegoing needs have been simplified. Every Thursday morning, our What To See guide will highlight the new releases opening in New York City and NYC repertory screenings that are most worth your time.
Here's your guide for the weekend of July 17 – June 19.
Because there's more to superhero cinema this week than that Suicide Squad trailer…
Ant-Man (2015)
Director: Peyton Reed
Stars: Paul Rudd, Evangeline Lilly, Michael Douglas, Corey Stoll, Bobby Cannavale, Michael Pena, Tip "T.I." Harris, Wood Harris, David Dasmalchian, Judy Greer
After this summer's gloomy Avengers: Age of Ultron, it'd be understandable to suffer from what purist cinephiles like to call "superhero fatigue"—which, obviously, would be akin to "multiplex fatigue," since superhero movies are pretty much all you're going to get from Hollywood's wide-release departments throughout the foreseeable future. But Avengers: Age of Ultron's tiresomeness stems from its thematic hugeness; everything in it shouts "Epic!" to the point where it's fun so much as it's exhausting. Give the Marvel Studios brass credit, though, for realizing that and counter-programming their summer 2015 schedule with Ant-Man, a relatively small-scale and entirely lighthearted superhero romp that's everything Age of Ultron isn't.
Closer to last summer's Guardians of the Galaxy than anything Marvel-tied, Ant-Man dials back to the high-concept and knowingly goofy comedies of the 1980s, films like Ghostbusters and the works of genre quirk-master Joe Dante (Gremlins, Innerspace). Paul Rudd plays Scott Lang, a cyber-hacking ex-con/cat burglar who's trying to pay child support for his young daughter but can't hold down a job; Michael Douglas, as retired S.H.I.E.L.D. physicist Hank Pym, fixes that by recruiting Lang to become Ant-Man, a costumed do-gooder whose high-tech suit shrinks his body down to an insect's size and allows him to control ants through telepathy. Pym needs Lang to break into his old protégé's (Corey Stoll) company's facility to steal an equally powerful suit but one made with world-ruining designs.
Meshing heist movie beats with Marvel's origin story prerequisites, director Peyton Reed (who's most known for Bring it On, believe it or not) keeps the mood playful throughout, a wise move considering that the titular hero's very existence is itself totally silly. In the film's quieter moments, he coasts on Paul Rudd's effortless charms, with Rudd's everyman accessibility helping to streamline Ant-Man's at times confusing mythology and technological explanations.
In its loudest scenes, Ant-Man feels like the imaginative antidote for Marvel's recent blockbuster staleness. It energetically goes against superhero cinema's typically apocalyptic stakes—instead of fallen buildings and end-of-days implications, Ant-Man's miniature size gives Reed the chance to stage elaborate action sequences in a bathtub, inside a briefcase and on a model train set. The blatant and now-overused 9/11-esque imagery of Marvel's Avengers movies is replaced by a mutated Thomas the Tank Engine figurine crashing through a suburban home's window, and rat living in a home's walls blown up to Godzilla proportions. There's nothing fatiguing about that kind of visual wit.
Where to see it: Opening in wide release
For those who enjoy comedy that's actually funny in their Hollywood rom-coms…
Trainwreck (2015)
Director: Judd Apatow
Stars: Amy Schumer, Bill Hader, Brie Larson, Mike Birbiglia, LeBron James, Colin Quinn, John Cena, Vanessa Bayer, Tilda Swinton, Jon Glaser, Ezra Miller
There's been a lot of talk about whether or not Trainwreck, starring and co-written by comedian-of-the-moment Amy Schumer, really is a progressive romantic comedy, one that shatters the ho-hum genre's conventions in the same ways that Schumer crushes multiple taboos on her Comedy Central series Inside Amy Schumer. The answer is, despite how middling it may sound, "Kinda."
Directed by Judd Apatow, Trainwreck has the right premise for breaking down this kind of movie's standards. Schumer, who based the script on her own personal experiences, plays a commitment-phobe who mindlessly sleeps with guy after guy, unable to separate herself from dying, once-philandering father's (Colin Quinn) anti-monogamy tirades. Working as a reporter for the trashy fictional men's magazine Snuff, she interviews a sports doctor (Bill Hader) who's cutting-edge and best friends with NBA guys like LeBron James and Amar'e Stoudemire. She quickly falls for him, but, you know, she's a veteran bed-hopper, and the newfound love turns her into a self-saboteur.
Trainwreck's story is definitely atypical, giving a woman the role of sexual conqueror that's usually afforded to dudes, yet Schumer and Apatow strangely lose sight of that around the midway point. Once Schumer and Hader's bond grows, Trainwreck falls into the clichés and formulas of every other Hollywood rom-com, right down to the "one person goes above and beyond to prove their love to the person who's angry at them" trope—think Justin Timberlake's ridiculous flash-mob for Mila Kunis in Friends with Benefits, but with more New York Knicks City Dancers.
How Trainwreck bucks the normal Hollywood rom-com trends, however, is by being legitimately funny, and often downright hilarious. Apatow is, after all, the same director who made the A+ rom-coms-in-disguises The 40 Year Old Virgin and Knocked Up, and Schumer's too scathingly sharp with her mostly profane one-liners to let her first shot at big-screen stardom look and sound anything like the dreck Katherine Heigl made after Apatow's Knocked Up. She's also smart enough to surround herself with a superb lineup of co-stars, including an unrecognizable Tilda Swinton and a totally game Ezra Miller, whose big scene with Schumer already deserves its own commemorative statue at next year's MTV Movie Awards.
Where to see it: Opening in wide release
That box of Milk Duds and the super-sized cola won't be the only things raising your heart rate…
The Stanford Prison Experiment (2015)
Director: Kyle Patrick Alvarez
Stars: Billy Crudup, Ezra Miller, Tye Sheridan, Michael Angarano, Nelsan Ellis, Olivia Thirlby, Logan Miller, Jack Kilmer, Nicholas Braun, Johnny Simmons, Matt Bennett, James Frecheville, Ki Hong Lee, Thomas Mann
Back in 1972, Wes Craven's deeply disturbing film The Last House on the Left was marketed with the ingenious tagline, "To avoid fainting, keep repeating: It's only a movie. It's only a movie. It's only a movie…." The same self-soothing disclaimer could also apply to The Stanford Prison Experiment, an intensely harrowing pressure-cooker that will leave some viewers wishing they could jump into the screen and stop its madness. The only difference between Craven's '72 debut and director Kyle Patrick Alvarez's new film, though, is that the latter actually happened. A more apt chant would be, "I can't believe this really happened. I can't believe this really happened. I can't believe…"
The Stanford Prison Experiment dramatizes one of the most notorious cases in the history of psychology. In 1971, Stanford University psychology professor Philip Zimbardo (played here by Billy Crudup) paid 18 male college students $15 a day to pretend they were prison guards and inmates. The goal was to figure out why people in jail-like environments behave how they do, and the experiment was scheduled for two weeks—it only lasted six days.
Alvarez excellently captures the group's rapid descent into abusive authority and helpless compliance with a gradual realism—before you know it, kids are being physically mistreated, and then, just like that, perverse sexual orders are given. What could've disastrously been staged as exploitative misery-porn is elevated to pulse-shredding drama by the film's ace cast of first-rate young actors, namely Ezra Miller as the first "prisoner" to lose his mind and Michael Angarano as the most tyrannical "guard," who calls himself "John Wayne."
You're left questioning how things could've gone so wrong back in 1971, but also how you would handle a similar situation. Not to mention, wishing it were, in fact, only a movie.
Where to see it: IFC Center, Friday and Saturday at 10:55 a.m., 1:25 p.m., 4:10 p.m., 7:00 p.m., 9:40 p.m., 11:55 p.m.; Sunday at 10:55 a.m., 1:25 p.m., 4:10 p.m., 7:00 p.m., 9:40 p.m.
Here's hard, and hilarious, proof that the film industry's racial politics have long been suspect…
Hollywood Shuffle (1987)
Director: Robert Townsend
Stars: Robert Townsend, Anne-Marie Johnson, Craigus R. Johnson, Helen Martin, Starletta DuPois, Keenen Ivory Wayans, John Witherspoon, Dom Irrera, Eugene Robert Glazer, David McKnight
Earlier this year, Twitter users lambasted the Academy Awards' almost solely Caucasian nominee class with the instantly trending hashtag #OscarsSoWhite, and, thanks to countless memes like these, it was equally funny and alarming. The emphasis needs to remain on "alarming," though, since the under-appreciation of black actors and the lack of diversity in casting and behind the camera have been troubling issues since, well, the dawn of cinema. An alternate hashtag that could always be trending: #HollywoodSoDiscriminatory.
In 1987, comedian/filmmaker Robert Townsend smacked people in their faces with that reality with the bitingly raucous satire Hollywood Shuffle. It's one of cinema's most underrated comedies, a no-holds-barred evisceration of the ignorance and limitations forced upon black actors working in the film industry that hasn't lost any of its impact 28 years after its release. Townsend stars as Bobby Taylor, an average, middle-class guy who dreams of being an actor, and who also happens to be black. But every producer and director he meets sees him as either BLACK, in all caps, or not "black enough" for their stereotypically written characters.
Presented as a series of fantasy blocks and comedy-of-errors vignettes, Hollywood Shuffle is a kind of Anthology of Racial Stupidity. And with #OscarsSoWhite still in people's minds, it should be mandatory viewing.
Where to see it: BAM Rose Cinema, Friday at 2:00 p.m., 4:30 p.m., 7:00 p.m., 9:30 p.m.
NOTE: Hollywood Shuffle opens BAM's stacked "Indie '80s" series, which runs from July 17 through August 27 and has one of the strongest repertory series lineups imaginable. Check out the full lineup and schedule here.

If Sharknado 3 is somehow your most anticipated July movie, you'll be in heaven with…
Snakes on a Plane (2006) and Anaconda (1997)
Directors: David R. Ellis (Snakes on a Plane), Luis Llosa (Anaconda)
If superheroes conspiring with ants doesn't seem ridiculous enough, perhaps a huge and laughably terrible-looking CGI snake is more your speed? And if not, Samuel L. Jackson dropping MF-bombs on a bunch of homicidal reptiles surely must be—and if it's not, abandon all guilty-pleasure-viewing hope.
As part of the Brooklyn theater's "Animals Attack!" series, Nitehawk Cinema will admirably screen a pair of so-bad-they're-kinda-amazing genre flicks this weekend, the first of which essentially predicted current pop culture's extreme trolling strategies. It's a movie title in search of an actual movie: Snakes on a Plane, literally about snakes on an airplane killing the passengers while Sam Jackson talks smack about all the damn "motherfuckin' snakes" on his "motherfuckin' plane." Viewed at midnight, with whatever beers from Nitehawk's menu feel right, it'll be the most dumb-fun available.
That is, next to seeing Jennifer Lopez do her best to act seriously around a computer-generated python. In Anaconda, director Luis Llosa predated Syfy's Sharknado-level ridiculousness, but with an ill-advised straight face. Lopez and her co-stars think they're making Jaws when they're really making a Hollywood-sanctioned precursor to Birdemic.
And, again, downing some Nitehawk-served beers will make watching scenes like this and this all the more enjoyable.
Where to see it: Snakes on a Plane - Nitehawk Cinema, Friday and Saturday nights at 12:10 a.m.
Anaconda - Nitehawk Cinema, Saturday and Sunday at 12:00 p.m.
---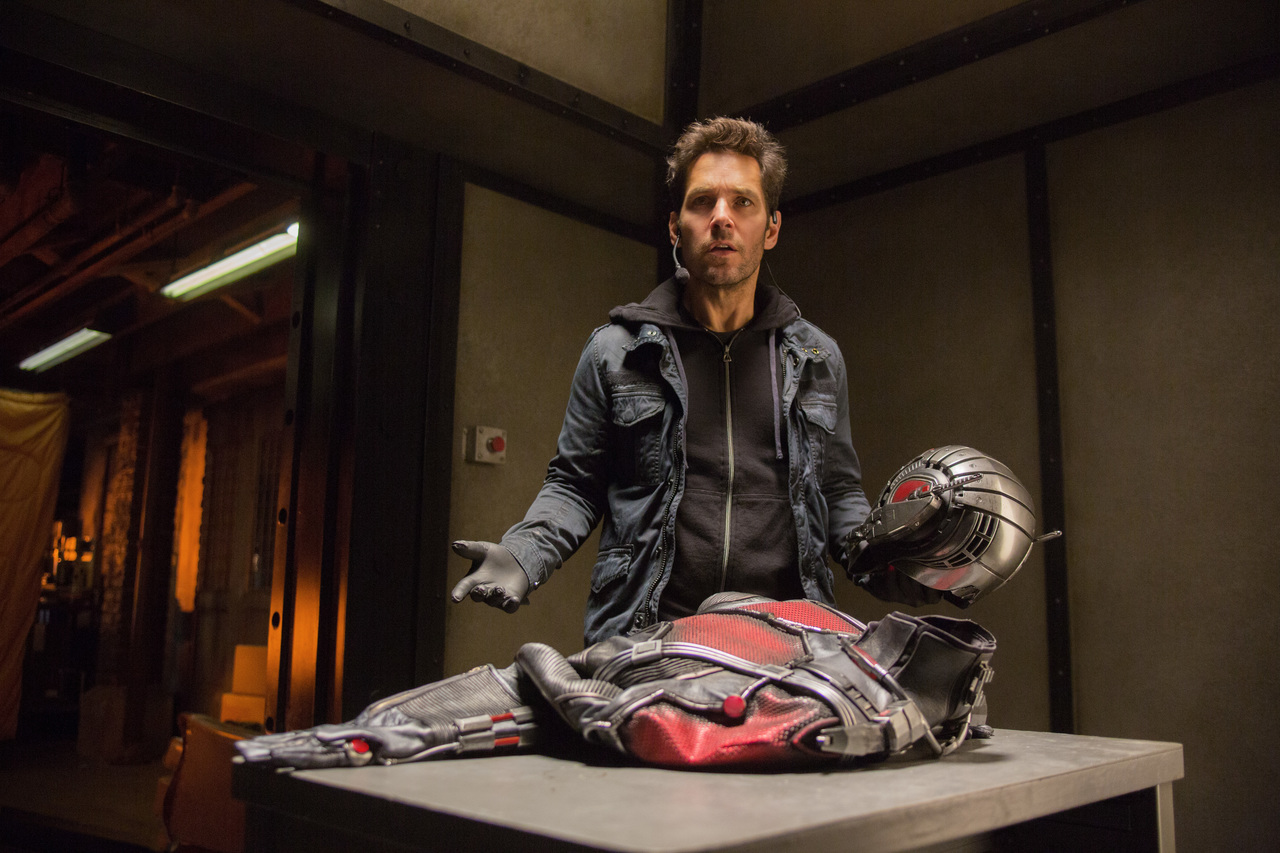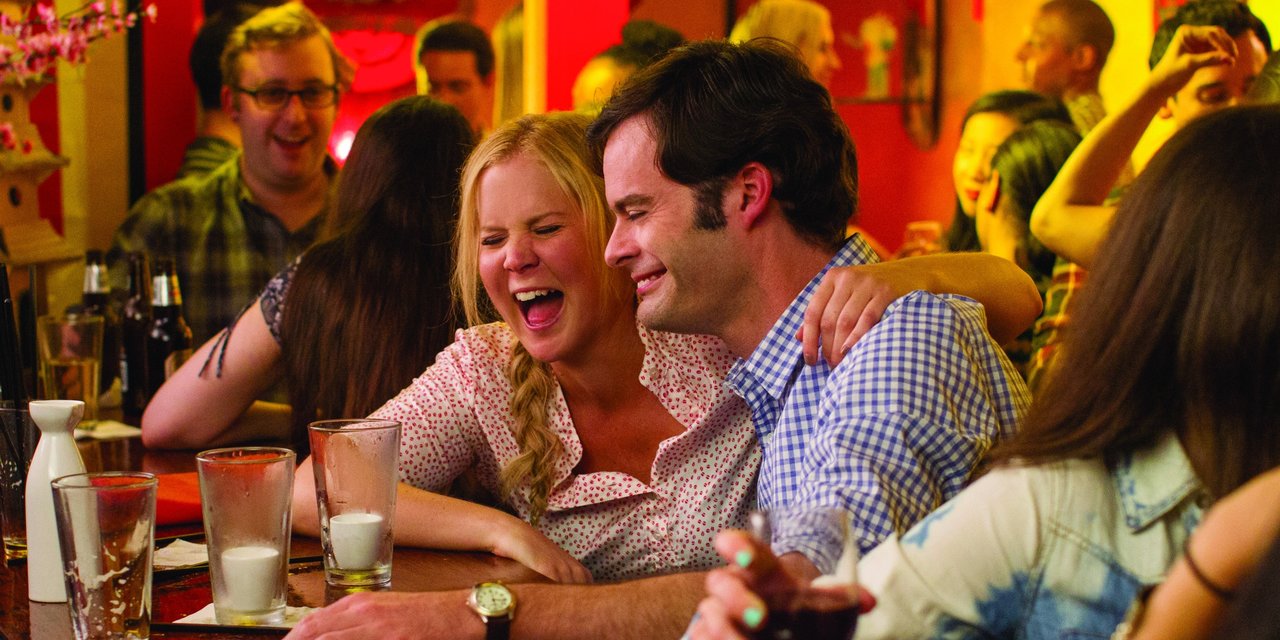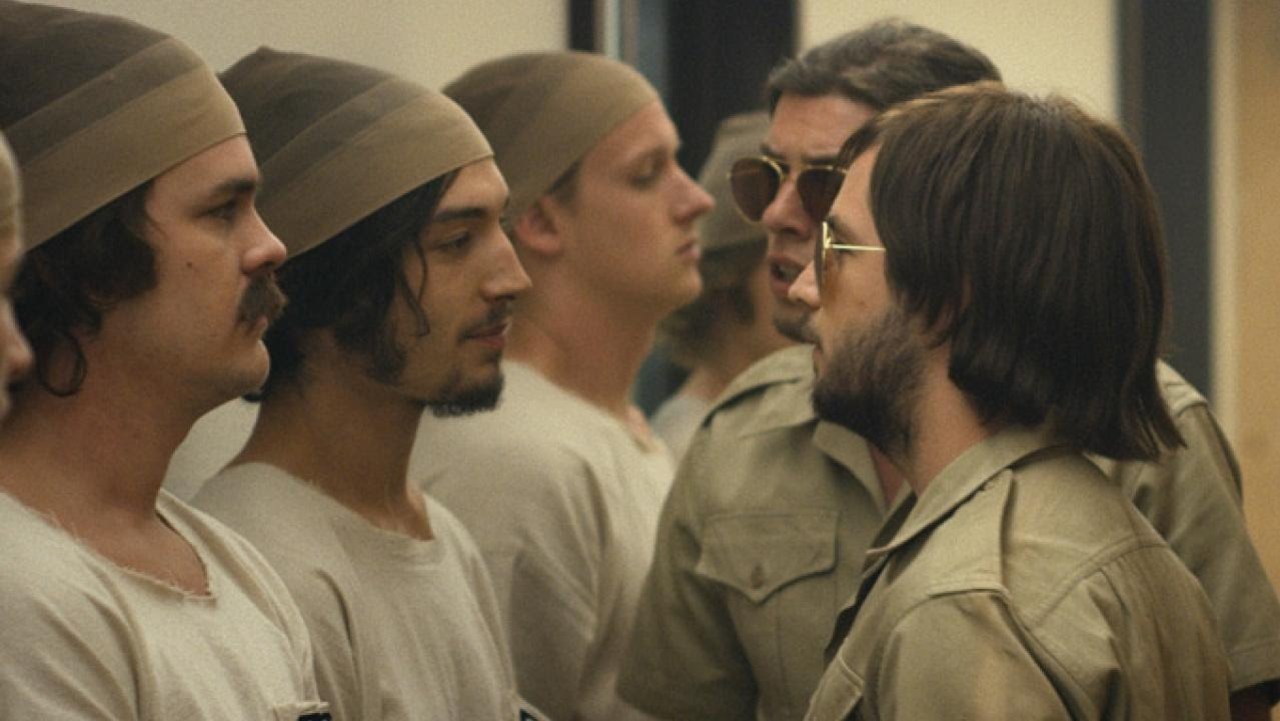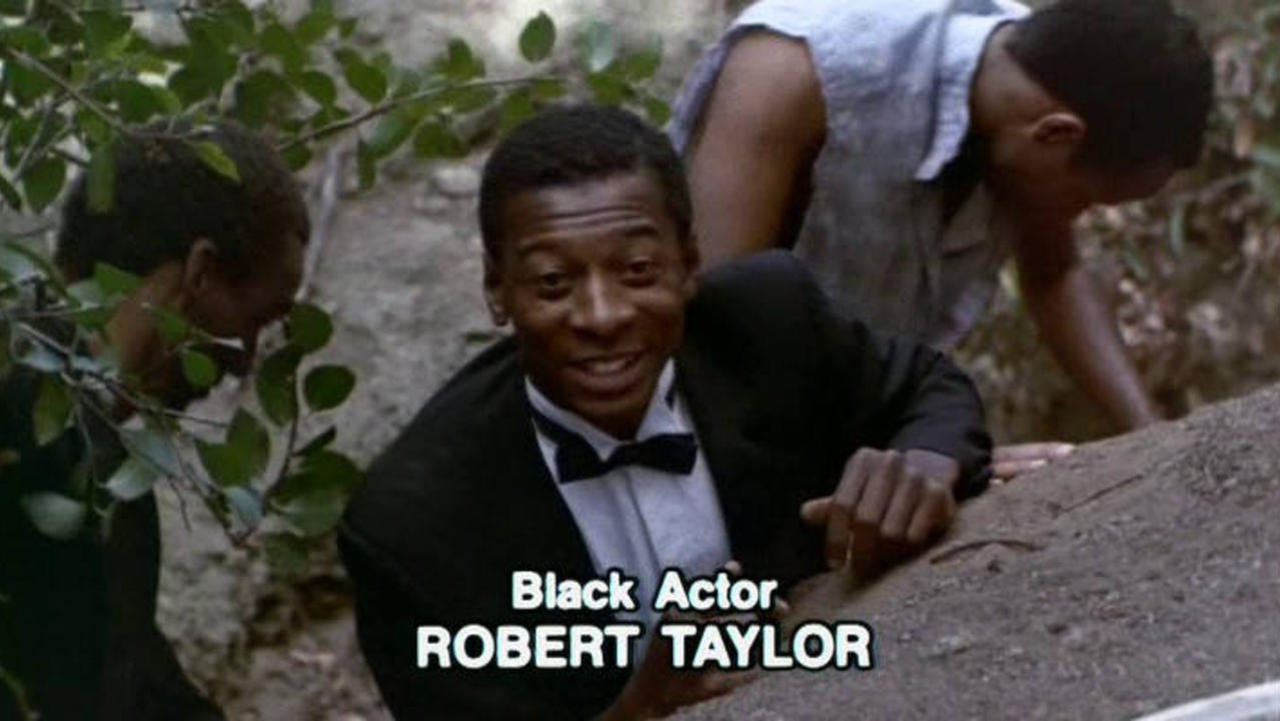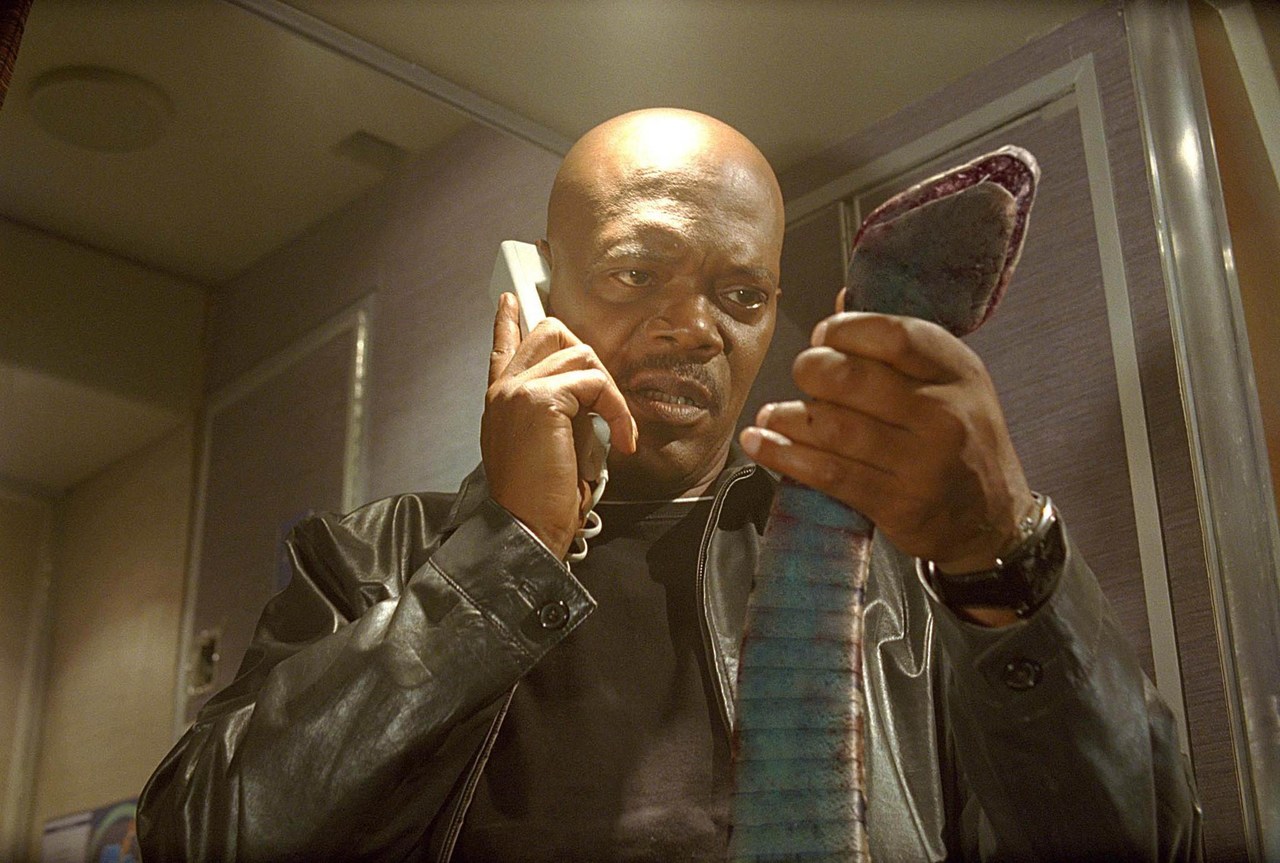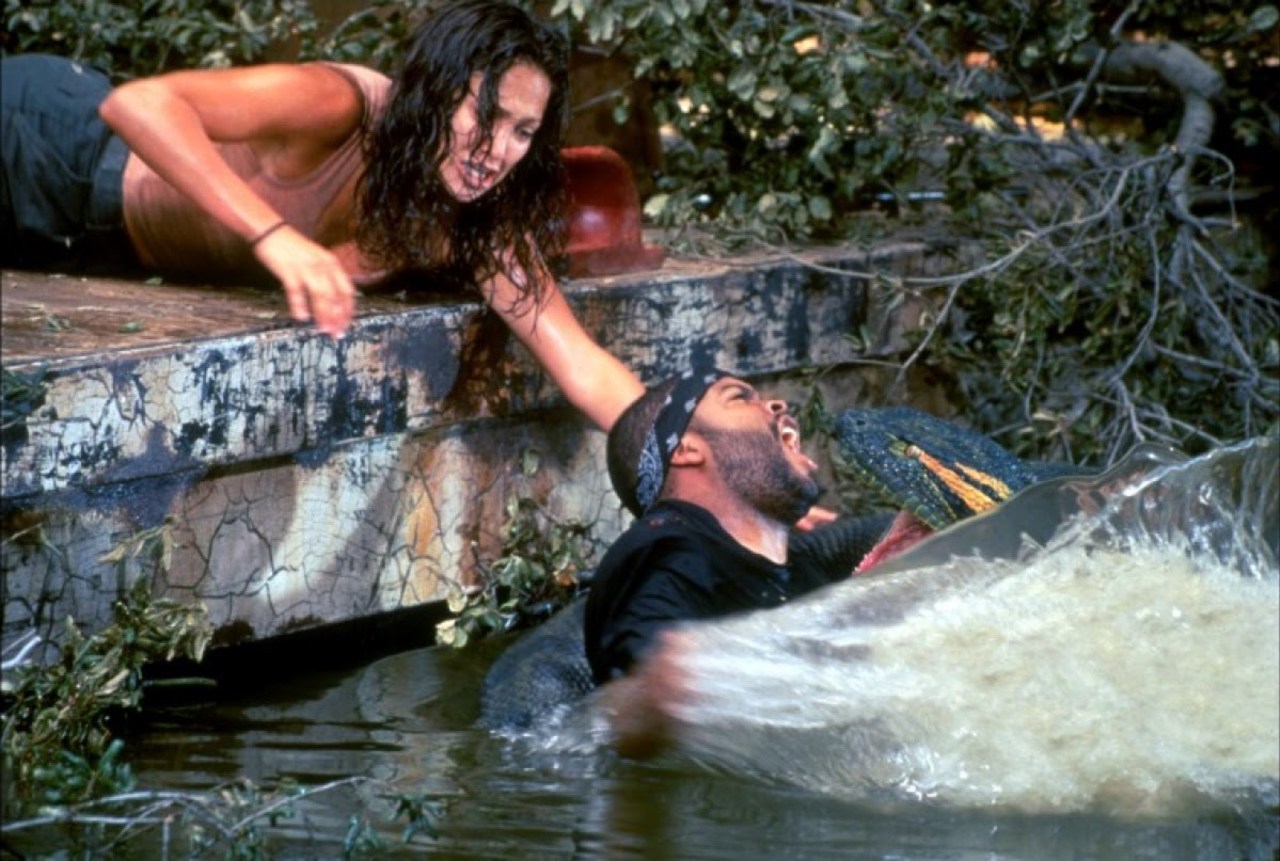 ---